Finally after some busy months, it's time for Christmas holiday. What is your plan for this holiday? Maybe you should take part in the party for companies, families and friends. Maybe you decide to carry out your traveling plan for this year. And, if you spend this holiday at home, you may have fun with your family members when having dinner or decorating the Christmas tree. Do you want to preserve these happy memories? Here is the way to preserve your happy time with PowerPoint, DVD discs and your Christmas photos.
Step 1: Making a PowerPoint photo album
One of the most fun features available in PowerPoint 2007 is creating a photo album. In the Christmas season, you may take lots of wonderful photos and a great way of organizing and share them with people is by creating photo albums. In this tutorial, I will show you the basics of creating a photo album in PowerPoint 2007.
First, try to keep your pictures in a picture folder to make it easy to be found. Open your PowerPoint, go to Insert>Photo Album and select the pictures in the folder then insert them into the PowerPoint photo album.
Next, go to the bottom of the pop up window box, and select a layout for your pictures –You can choose to put one picture or several pictures per slide.
While in the Photo Album, if you want to add text to the pictures you can do that by clicking the "New Text Box" button right under "Insert Text" sign.
Click the Create button, Ok, you have just created a photo album. Then you can add music or animations to your pictures.

Step2: Making a Photo DVD, burning your PowerPoint album to DVD
After the Christmas holiday, there are always a lot of things memorable. If there are 100 pictures in your PowerPoint photo album, it may take you 200M disk space, and if you want to email it to others, it is too large to be enclosed. If you send this photo album to your mother or grandmother, they may want to view this PowerPoint album on TV rather than view it on their computer. Burning PowerPoint to CD/DVD can solve these problems. After burning PowerPoint to DVD, you can view the PowerPoint on TV with a DVD player and you will be surprised to find that all your sound and animation in the PowerPoint photo album are retained, most importantly, you can make DVD menu for your PowerPoint photo album.
Here are 5 ways to convert PowerPoint to CD/DVD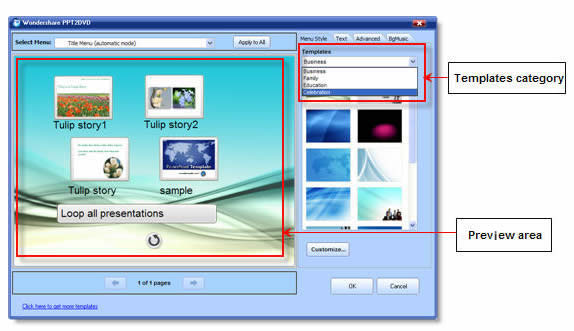 Step3: Sending the CD/DVDs to others as Christmas gift

If you are a party organizer, surprise your party members by sending them the photo DVD. Members can also send the photo DVD to the organizer for his/her wonderful party. And if you are living far from your parents, sending the photo DVD to them and telling them that you are happy and growing. You may have many thought that why you should send the photo DVD to others.
Burning your PowerPoint photo album to DVD is just one tip for your Christmas holiday. Hope you have a merry Christmas with shopping, Christmas gifts, Santa and your friends.
Want to learn more? These are related…
5 ways for you to convert PowerPoint to Video
Free Christmas PowerPoint templates