As summer vacation goes to the end, the new semester begins. Kids should go back to school. Through the long holiday, they would miss each other very much. Thus, it would be a wonderful idea for teachers to hold a story-telling class. Teachers can ask students to collect their summer vacation stories and make into story slideshows by themselves, and then show the story with others. It is good for improving the relationship among students and also cultivating their various interests, broadening their view sights.
Besides, it is a fun way to integrate literacy and technology into the multimedia classroom. The following are the steps on how teachers to hold such an activity.
1. Ask students prepare the story slideshow
Step 1: Choose tool and prepare resources

A computer with Microsoft PowerPoint 2007 or any other early versions installed.

As a teacher, you can also provide your kids with some stunning PowerPoint templates. You can find some educational PowerPoint templates from the link below.

http://www.ppt2dvd.com/freetemplates/free-education-powerpoint-templates.html#149
Step 2: Create a story slideshow
Part I -Prepare Slides

Help each student to create an about 5 slides story PowerPoint slideshow with some interesting and special things happened during their summer vacation.
Part II – Import the photos and add descriptions

When students begin to import the photos to the presentation, you can help them to edit photo shapes in PowerPoint to make their photos look more beautiful and perfect. Please follow the simple steps below: Open PowerPoint 2007 -> Insert -> Images -> Choose photos. Then double click a photo, you can see the Picture Tools options in the tool bar. With it, you can get any picture style or shape you want because more than a hundred shapes are provided here. Comparing with other photo editing tools, I think PowerPoint editor is really convenient and easy-to-use. When you settle down the issue of photo edition, now you can help them to add some descriptions to their story slideshows.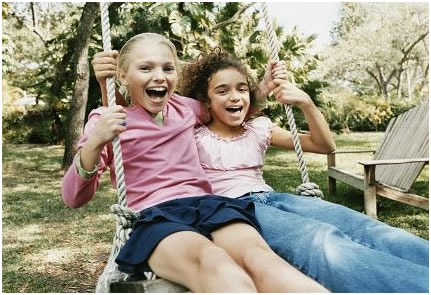 2. Students share story slideshows one by one in story-telling class
When slideshows are completed, now it is the time for children to share their story slideshows in story-telling class. It is a good way to develop the skills of telling story for children to share story slideshow in the front of classmates. Here are some points you can remind children to pay more attention to while sharing story slideshows.
• Don't stare at the story slideshow all the time, just recite all the information from memory.

• Ask some questions to attract the attention of your classmates. When they give a correct answer to your question you presented, they can win a piece of candy or something else. It is a good way to ask them to interactive with you.

• Be self-confident while speaking. Don't talk monotonously like Ben Stein, have some flare.

• Put some comedic relief into your story slideshow to relieve a little bit of the boredom, maybe something tiny about half-way through the story slideshow.
3. Teachers integrate all story slideshows to one back-to-school slideshow
After the story-telling class, you can integrate all story slideshows to one back-to-school slideshow as a souvenir. Following are some advices for you to create a back-to-school slideshow.
•Prepare a wonderful introduction and ending for the back-to-school slideshow. In addition, you can add some good wishes or new semester goals for children.

•Choose an appropriate song for the back-to-school slideshow, click here to learn more how to add music file to back-to-school slideshow.
4. Enjoy the back-to-school slideshow together
Now you can enjoy the back-to-school slideshow with your students together through the Projector. Furthermore, if you want to distribute it to your kids and even to the ones who do not have computers, and also want to share it with your friends or put it online, you can convert slideshow to video with the help of Wondershare PPT to Video or Convert Slideshow to DVD to View Slideshow on TV with your family members.
If you are a teacher, you can get Wondershare software all PowerPoint conversion programs with 40% discount during their Back to School Offer. Please feel free to contact them.
Enjoy it and wish you have a good beginning of the new semester.